Welcome to FortDrum.iSportsman.net
NEW
News Updated:
9/15/2022
*** BE ADVISED: MILITARY TRAINING EXERCISES WILL CLOSE FORT DRUM TO RECREATIONAL ACTIVITIES
FROM TUESDAY, 11 OCTOBER - FRIDAY, 28 OCTOBER. ***
UPCOMING EVENTS & NEW NEWS
New fishing regulations

in NYS on April 1.

Trout stocking

on Fort Drum in Black Creek, Quarry Pond, West Branch of Black Creek, and Remington Pond

on May 4

.
NEW boating requirements start June 8--to combat the spread of invasive species, all operators of motorized watercraft are required to obtain certifications that they have cleaned, drained, and dried boats and equipment each time they launch into a new waterbody in the

Adirondack Park and within 10 miles of the Blue Line

--this includes Fort Drum. Alternative, boaters may follow

"Clean, Drain, Dry"

steps on their own and fill out a

self-issued certificate

.
NEW

kayak launches

were installed at Indian Lake, Indian Pond, and Mud Lake in June 2022.
NYSDEC now offers a

HuntFishNY Mobile App

that provides hunters, anglers, and trappers an instant way to display licenses and privileges; report game harvests; links to current regulations; sunrise/sunset information; etc.

N

EW hours for the

Natural Resources Outreach Facility

on Tuesdays and Thursdays from 10:00 am - 2:00 pm. Talk to a staff person, see the displays, get assistance with recreation passes--next to the new Fort Drum Museum.
The safety briefing required to hunt in the Cantonment Area is now available on this web site. Go to

Hunting in Cantonment Area

for more information.

DMAPs are available to be signed out for specific areas in the Cantonment Area

for the duration of the season by coming to the Natural Resources Outreach Facility (Bldg. S-2507) on Tuesdays or Thursdays from 10:00 am - 2:00 pm.

NYSDEC is hosting the

Jefferson Co. Youth Waterfowl & Pheasant Hunt

for youth ages 12-15. An educational day will be at the Sackets Harbor Sportsman's Club on Saturday, September 10 at 9:30 pm; the waterfowl hunt will be Saturday, September 17; the pheasant hunt will be on Saturday, September 24. See the press release for more details.
NYSDEC is hosting the

St. Lawrence Co. Youth Waterfowl & Pheasant Hunt

for youth ages 12-15. An educational day will be at the Massena Rod & Gun Club on Wednesday, September 14 at 5:00 pm; the waterfowl hunt will be Saturday, September 17; the pheasant hunt will be on Saturday, September 24. See the press release for more details.

Boat America Boating Education Course

virtual through the Antique Boat Museum in Clayton from 6:00 pm - 8:00 pm from September 19-22.

Free Fishing Day

throughout NYS on September 24, 2022.

Sportsmen's Days

at Carpenter's Brook Fish Hatchery in Elbridge, NY on Saturday and Sunday, September 24 and 25 from 11:00 am - 5:00 pm.

Free Astronomy Night

outside the Sci-Tech Center in Watertown, NY on Saturday, October 1 at 7:00 pm.
Celebrate Global Bird Weekend and World Migratory Bird Day by participating in

October Big Day

and record all the birds you see on Saturday, October 8.

Boat America Boating Education Course

virtual through the Antique Boat Museum in Clayton from 6:00 pm - 8:00 pm from October 17-20.
REQUIREMENTS
It is the responsibility of all Fort Drum Access Pass holders to know Fort Drum regulations. Fort Drum Regulation 420-3 Hunting, Fishing, & Other Outdoor Recreation (

Unofficial Version effective & updated 1 Aug 2022

)

is available.

All recreationists must understand the life threatening hazards associated with touching unexploded ammunition that may be uncovered in the Training Area. Recreationists who would like more information can view the

Explosives Safety Education Program - Recognize, Retreat, & Report Unexploded Ordnance

.

Recreation maps and brochures are available from the kiosk in front of t

he Natural Resources Outreach Facility (

Bldg. S-2507) off of Rte. 26 across from the Army Reserve Center (between Great Bend and Wheeler-Sack Army Airfield).
The current iSportsman system is designed to be used with a computer or smart phone which works better than a regular phone. However, if you only have a phone, the Sportsman's Hotline number is: 1-855-267-9770.
Recreationists must check-in before recreating and check-out at the end of the day. Everyone will have to check into a specific area(s). Due to the number of incidences of recreationists entering closed areas and for a general safety procedure, all recreationists are required to check-in to an open subtraining area. You have the option to check-in to three areas at a time. If you want to change areas, you will have to check-out of the first areas and check-in again to the new areas. If you are recreating only along a road (e.g., birdwatching from the road, going for a drive, etc.) and not entering a subtraining area, there is the option of "Road Recreation."

You can now

see

what training areas are open by looking at the

interactive map

.

To check-in using a map, follow the directions below:

Sign-in to your account and click the "Checkin/Checkout" button.

Follow the regular procedure: "Checkin" > When are you going? > Select Activity

At the "Select Area" screen, click the blue button "Show Map" -- an interactive map will load showing which areas are open or closed.

Click on up to 3 areas to select the area to checkin -- click on an area again to unselect

Click on the blue button "Next Areas (# Areas)"

Click "OK" to Confirm Area Selection

Follow the regular procedure: Click "I Accept" confirming checkout is required and click "Confirm Checkin" and you are done.

Firearms in the Training Area no longer need to be registered. See

Fort Drum Regulation 190-13 Physical Security

(updated 1 Mar 2020) (Chapter 8: Privately Owned Weapons & Ammunition) for more information. (

But you should keep your paperwork in a safe place if you have registered your firearm in the past.)

First-time hunters must complete a NYSDEC Hunter, Bowhunters, and/or Trapper Education course before applying for a respective New York State license. An online option for Hunter Education classes is available. Anyone 11 years of age and older can obtain a hunter education certificate either by completing the online course and virtual field day, passing the final exam, and paying a fee; or by attending an in-person, instructor-led course.

Below are links to the different classes offered that can be sorted by distance from a zip code location.

To add another vehicle to your account (or update other personal information), follow the directions below:

Once you are on your home account page, go to the blue navigation bar at the top and click on "My Account."

On the drop-down menu, click on "Account Details"

Click on the blue button "Manage Account"

Go to the bottom for vehicle information and click on the "+ Add New" button

Click here for the

iSportsman User Guide
FISHING SEASONS on FORT DRUM
HUNTING SEASONS on FORT DRUM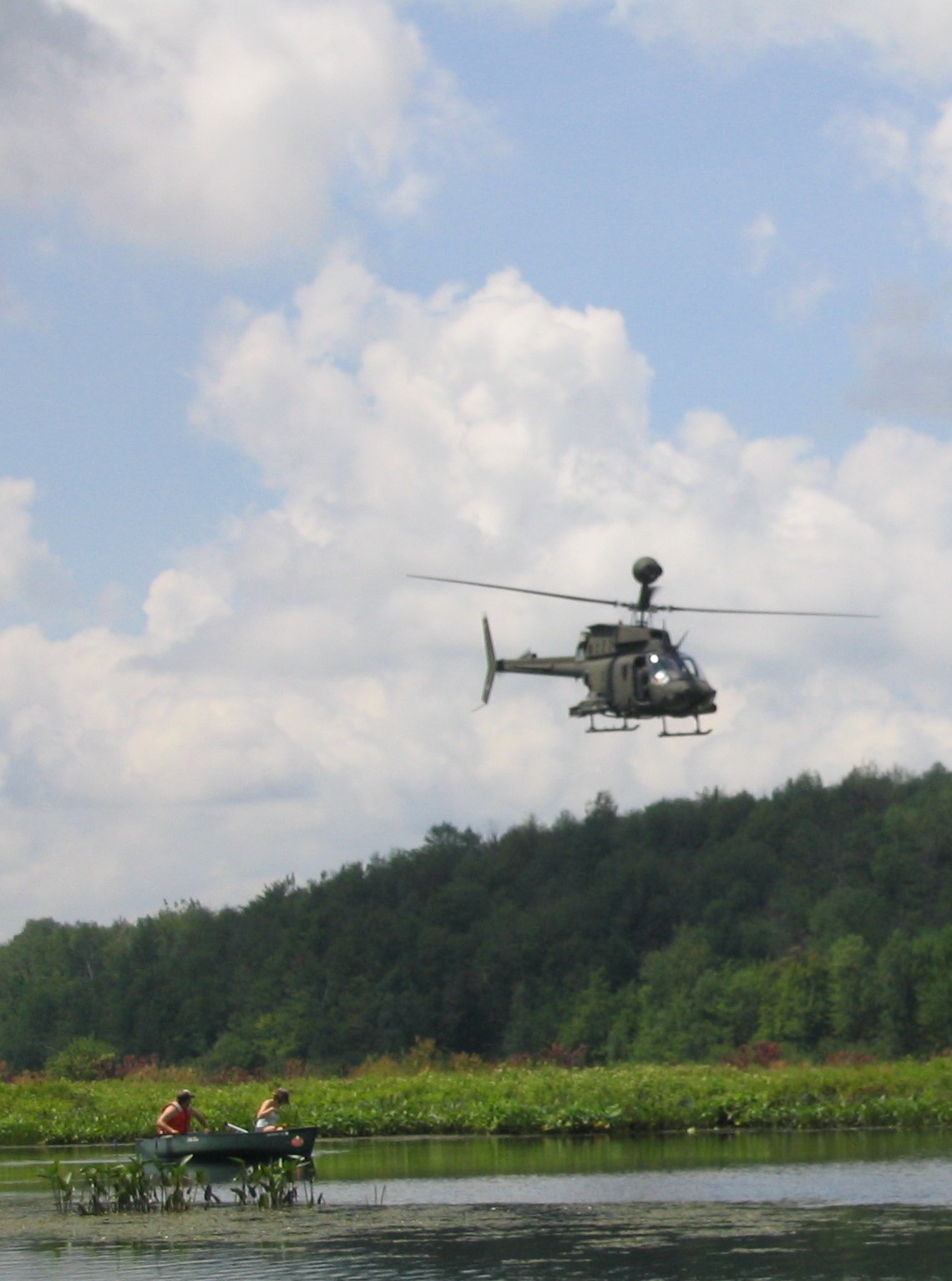 Fort Drum is a U.S. Army installation in northern New York State located in the northeastern corner of Jefferson County and the northwestern corner of Lewis County; St. Lawrence County borders Fort Drum to the north. Fort Drum is approximately 30 miles from Canada, 6 miles east of Interstate 81, and 10 miles northeast of the City of Watertown which is the largest U.S. city within a 50 mile radius.
Fort Drum is the largest Fish & Wildlife Management Act (FWMA) Cooperator Area in New York State. Fort Drum signed the original agreement in 1959 to provide additional outdoor recreational opportunities to the public. Fort Drum is over 108,000 acres in size with approximately 70,000 acres open to everyone (including the public) for recreation. Fort Drum has 3 lakes and 4 ponds totaling 506 acres that are commonly fished—Indian Lake (184 acres) is the largest lake on the installation.
Besides permanently prohibited areas, the only restricted access and activity on Fort Drum is hunting in the Cantonment Area and Training Areas 5E and 6C. Approximately one-third of the 8,000 acre Cantonment Area is open for archery hunting only by persons with Department of Defense identification. Training Areas 5E and 6C are open for disabled access hunting only. None of these areas are open for trapping, although fishing and other recreational activities are allowed in the Cantonment Area to anyone including the public.
The area surrounding Fort Drum is generally rural with small concentrations of residential, commercial, and industrial areas mainly within villages. Although there are few federal lands near Fort Drum, state lands are numerous including state forests, forest preserves, wildlife management areas, and state parks. The majority of protected land is large forested tracts (primarily state forests, wilderness areas, wild forests, and primitive areas) located in Adirondack Park which begins only 5 miles from Training Area 19 in the northeastern part of Fort Drum. State forest lands border some areas of Fort Drum. The nearest state wildlife area is Perch River Wildlife Management Area (7800 ac) approximately 5 miles to the northwest of the Cantonment Area of Fort Drum.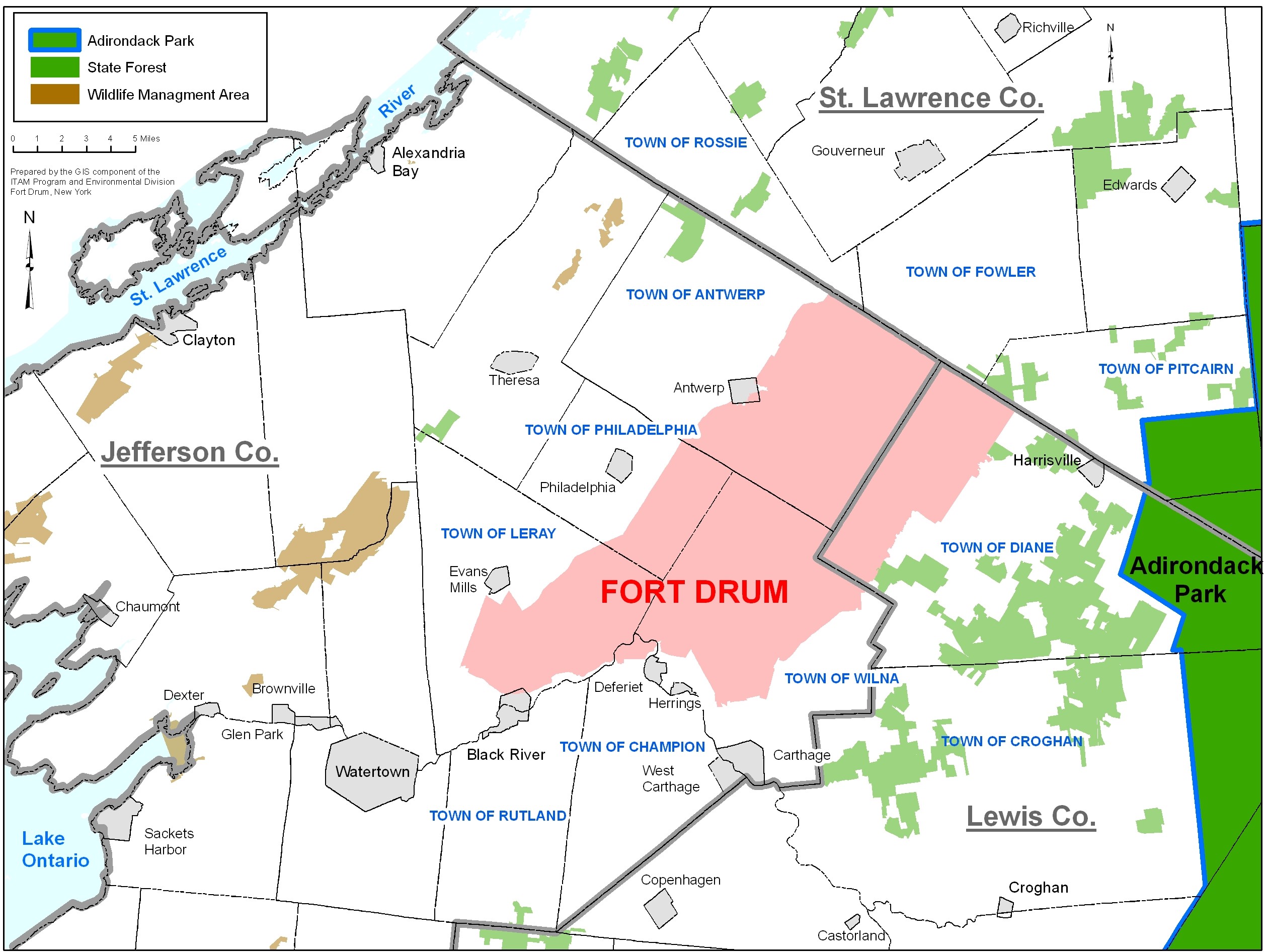 The natural beauty of the region along with world renowned fishing, boating, and winter recreation opportunities has made tourism a substantial part of the regional economy. This includes the Thousand Islands region along the St. Lawrence River approximately 20 miles to the northwest of Fort Drum, Lake Ontario approximately 16 miles to the west, and Adirondack Park to the east. The Black River running past Fort Drum and through Watertown is nationally known for kayaking. Fort Drum attracts hunters throughout the eastern U.S. See the New York State Department of Environmental Conservation (NYSDEC) web site for a guide to outdoor activities in New York State.
Fort Drum is home of the 10th Mountain Division (Light Infantry). It is also the largest installation in the northeastern U.S. and serves as a training facility for Reserve and National Guard units in the region. The initial acquisition of land for Fort Drum occurred in 1909 and the most significant acreage—75,000 acres—was acquired in 1940. Fort Drum is an active military installation and recreational use is secondary to the military mission.
To ensure sound natural resources management, an Integrated Natural Resources Management Plan (INRMP) was developed and first implemented in 2001 with revisions in 2011, 2018, and 2021. The INRMP was prepared in partnership and signatory cooperation with NYSDEC and the U.S. Fish and Wildlife Service (USFWS), representing the state and federal Sikes Act agencies, respectively.