Welcome to FortDrum.iSportsman.net
NEW
News Updated:
5/08/2022
UPCOMING EVENTS & NEW NEWS
REQUIREMENTS
FISHING SEASONS on FORT DRUM
HUNTING SEASONS on FORT DRUM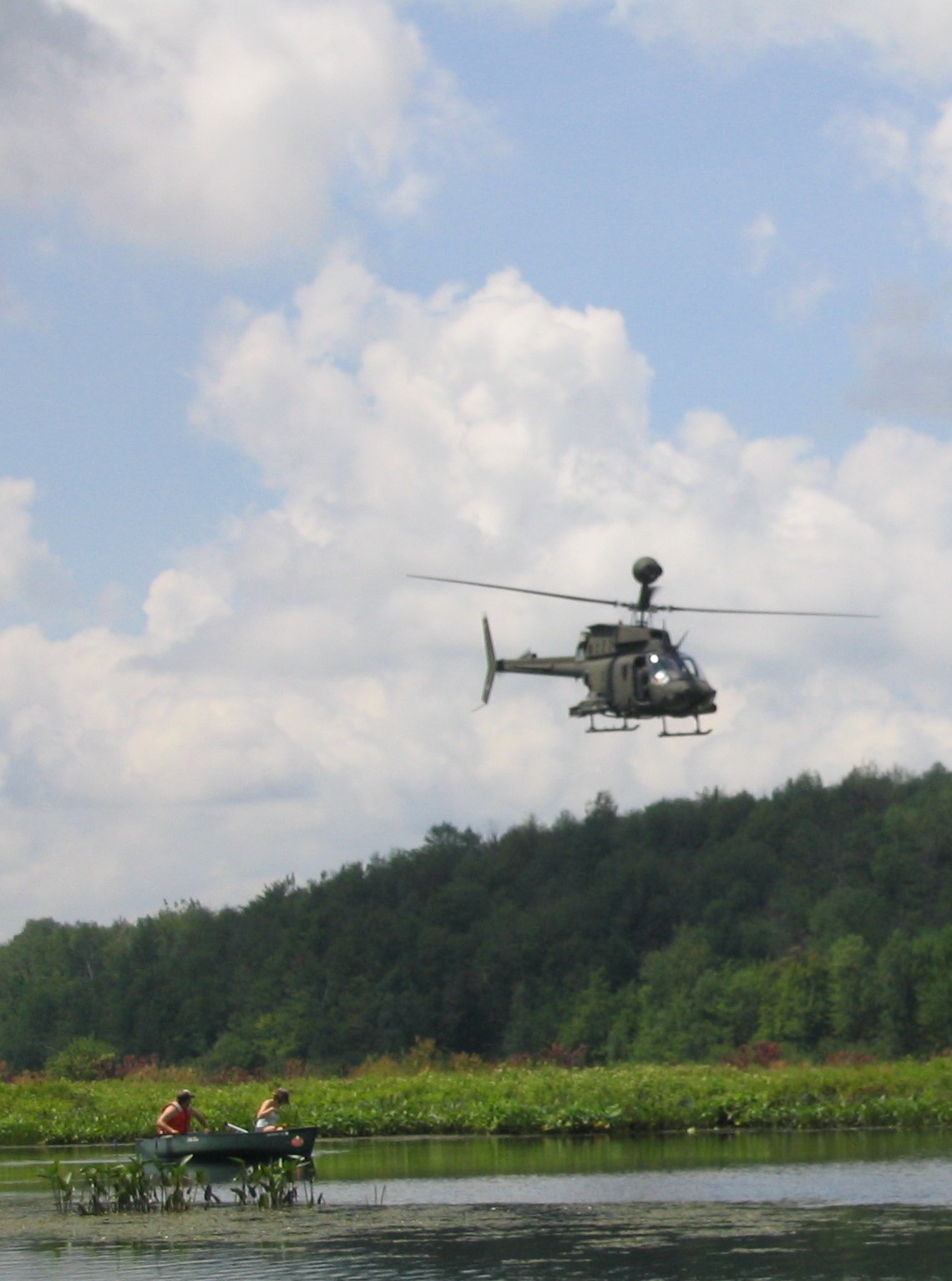 Fort Drum is a U.S. Army installation in northern New York State located in the northeastern corner of Jefferson County and the northwestern corner of Lewis County; St. Lawrence County borders Fort Drum to the north. Fort Drum is approximately 30 miles from Canada, 6 miles east of Interstate 81, and 10 miles northeast of the City of Watertown which is the largest U.S. city within a 50 mile radius.
Fort Drum is the largest Fish & Wildlife Management Act (FWMA) Cooperator Area in New York State. Fort Drum signed the original agreement in 1959 to provide additional outdoor recreational opportunities to the public. Fort Drum is over 108,000 acres in size with approximately 70,000 acres open to everyone (including the public) for recreation. Fort Drum has 3 lakes and 4 ponds totaling 506 acres that are commonly fished—Indian Lake (184 acres) is the largest lake on the installation.
Besides permanently prohibited areas, the only restricted access and activity on Fort Drum is hunting in the Cantonment Area and Training Areas 5E and 6C. Approximately one-third of the 8,000 acre Cantonment Area is open for archery hunting only by persons with Department of Defense identification. Training Areas 5E and 6C are open for disabled access hunting only. None of these areas are open for trapping, although fishing and other recreational activities are allowed in the Cantonment Area to anyone including the public.
The area surrounding Fort Drum is generally rural with small concentrations of residential, commercial, and industrial areas mainly within villages. Although there are few federal lands near Fort Drum, state lands are numerous including state forests, forest preserves, wildlife management areas, and state parks. The majority of protected land is large forested tracts (primarily state forests, wilderness areas, wild forests, and primitive areas) located in Adirondack Park which begins only 5 miles from Training Area 19 in the northeastern part of Fort Drum. State forest lands border some areas of Fort Drum. The nearest state wildlife area is Perch River Wildlife Management Area (7800 ac) approximately 5 miles to the northwest of the Cantonment Area of Fort Drum.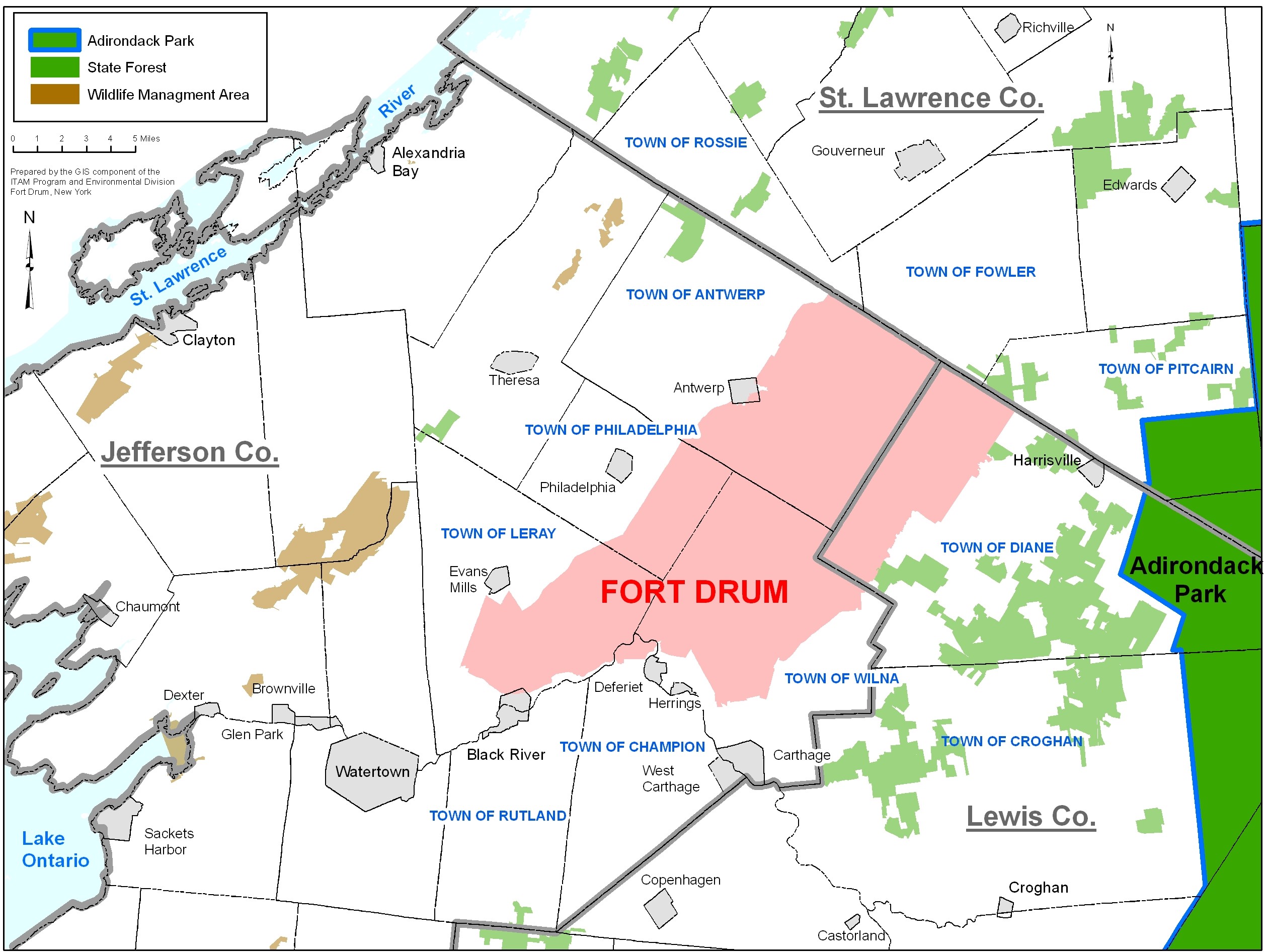 The natural beauty of the region along with world renowned fishing, boating, and winter recreation opportunities has made tourism a substantial part of the regional economy. This includes the Thousand Islands region along the St. Lawrence River approximately 20 miles to the northwest of Fort Drum, Lake Ontario approximately 16 miles to the west, and Adirondack Park to the east. The Black River running past Fort Drum and through Watertown is nationally known for kayaking. Fort Drum attracts hunters throughout the eastern U.S. See the New York State Department of Environmental Conservation (NYSDEC) web site for a guide to outdoor activities in New York State.
Fort Drum is home of the 10th Mountain Division (Light Infantry). It is also the largest installation in the northeastern U.S. and serves as a training facility for Reserve and National Guard units in the region. The initial acquisition of land for Fort Drum occurred in 1909 and the most significant acreage—75,000 acres—was acquired in 1940. Fort Drum is an active military installation and recreational use is secondary to the military mission.
To ensure sound natural resources management, an Integrated Natural Resources Management Plan (INRMP) was developed and first implemented in 2001 with revisions in 2011, 2018, and 2021. The INRMP was prepared in partnership and signatory cooperation with NYSDEC and the U.S. Fish and Wildlife Service (USFWS), representing the state and federal Sikes Act agencies, respectively.