FISHING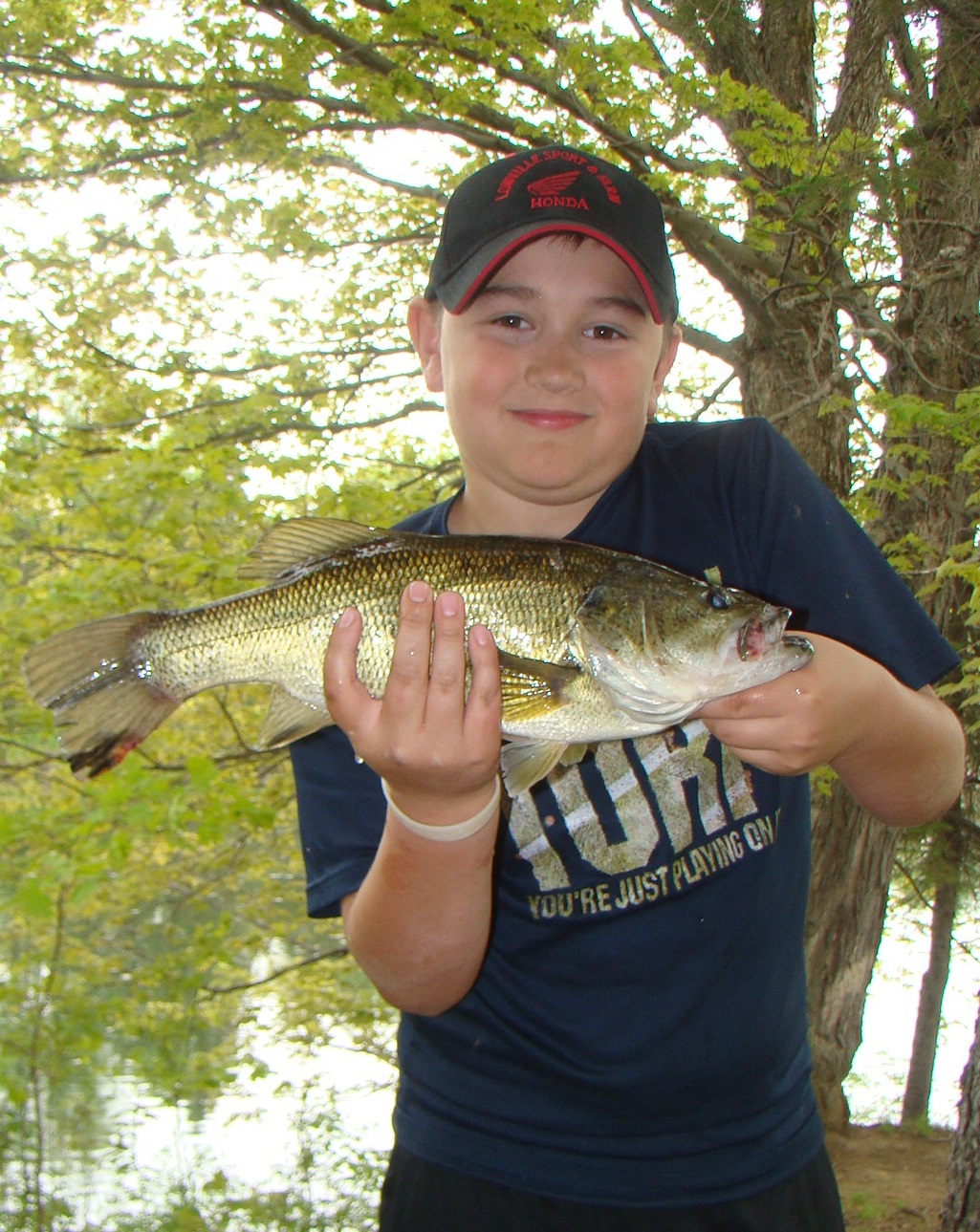 Fishing seasons, harvest limits and other recreational use of Fort Drum is in accordance with New York State Fishing Laws, and Fort Drum Regulation 420-3 Hunting, Fishing, & Other Outdoor Recreation (unofficial version updated 9 Aug 2018). To determine seasons, minimum lengths, daily limits, and other information, Fort Drum is in Region 6 in Jefferson and Lewis counties (including the Black River and Indian River) in the NYSDEC Fishing Regulations.
See the New York State Office of Parks Recreation and Historic Preservation web site for information about boating regulations, safety and other information including a copy of the New York State Boating Guide. NYSDEC provides a list of public boat launches organized by county is available and includes the type of launch, driving direction, and parking capacity.
All bodies of water on Fort Drum, except those in permanently restricted areas, are open to fishing.
The primary waterbodies for fishing on Fort Drum include Indian and Narrow Lakes, Remington Pond, Quarry Pond, Conservation Pond, Indian Pond, Indian River, Black Creek, and the West Branch of Black Creek. A brochure entitled Fishing Fort Drum highlights specific areas for fishing on Fort Drum, as well as the North Country region.
Permanently restricted areas are posted with New York State yellow and green (Restricted Area) signs. The Main Impact Area including the part of the Indian River adjacent to the Main Impact Area is off limits to all recreationists. The portion of the Black River that borders Fort Drum is off limits for all recreational activity by military personnel except fishing from the banks (in accordance with Fort Drum Pamphlet 600-5).
A Fort Drum Recreation Permit is not required to recreate in Mud Lake if access is gained via Lake Bonaparte. Likewise, a permit is not required to recreate on the Black River or Indian Pond if access is gained off of Fort Drum. If the recreationist does NOT remain in the boat and sets foot on Fort Drum, a Fort Drum Recreation Permit and Access Pass is required.
Joint Use Policy to Access Closed Training Areas for Fishing
A Joint Access Policy for anglers (and trappers) allows the utilization of training areas when military training is occurring as long as those activities do not interfere with military operations. Anglers (and trappers) MUST call 315-772-7152 to speak with Range Branch personnel to determine if access is possible and if there are any additional restrictions.
Fishing At Night
Recreational fishing is potentially permitted on Fort Drum 24 hours a day. Recreationists engaged in nighttime fishing activities (or camping or predator hunting) in the Fort Drum Training Area are required to check-in and check-out via the Sportsman's Hotline. Upon reaching your destination in the Training Area, recreationists must contact Range Branch (315-772-7152) and confirm your location.
Ice fishing is permitted on all non-trout waters on Fort Drum (Indian Lake, Indian Pond and Mud Lake). Remington Pond and Quarry Pond are not open for ice fishing.
No motorized vehicles are allowed on the ice at any time except for ATVs or snowmobiles for ice fishing purposes on Mud Lake, Indian Pond, and Indian and Narrow Lakes ONLY
ATVs and snowmobiles must be trailered into the Training Area. Access to these waterbodies must be in the most direct route possible from the parked vehicle to the waterbody.
Recreationists are responsible for their own safety while on the ice.
Please refer to the guide for recommendations.
Image used with permission by Minnesota Department of Natural Resources.
Health Advisory of Fish
Based on an evaluation of contaminant levels (i.e. mercury) in fish, the New York State Department of Health (NYSDOH) has placed a health advisory in effect for all species of fish found in Indian Lake (and Narrow Lake). NYSDOH recommends that persons eat no more that one meal (one-half pound) per month. In addition, NYSDOH recommends that women of childbearing age, infants and children under the age of 15 should not eat any of the fish species from Indian Lake.
Tagged Fish
If you catch a fish with a tag in Indian or Narrow Lake, contact the Fish & Wildlife Management Program Manager (315-772-9636) or the Fish & Wildlife Biologist (772-6283) and provide the following information:
Tag Number

Species of Fish

Length of Fish

Weight of Fish

Where the fish was caught

The depth the fish was caught
These fish can be kept by the angler or released.
Trout are stocked annually by New York State Department of Environmental Conservation (NYSDEC). Brown trout are usually stocked in late April or early May in Black Creek; brook trout are usually stocked in late April or early May in Remington Pond and the West Branch of Black Creek; and rainbow trout are usually stocked in June in Quarry Pond. Check out the 2019 Fish Stocking Map for stocking locations on Fort Drum.
Fishing at Remington Park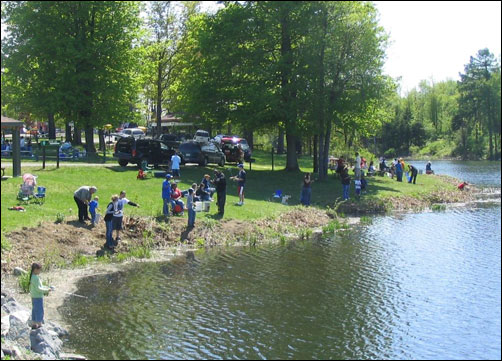 Remington Pond is in Fort Drum's Cantonment Area and is a catch-and-release fishery for all fish. No Fort Drum Recreation Permit is required to fish at Remington Pond; however, a NYS fishing license is required.
Since 1997, the Fish & Wildlife Management Program has co-sponsored and hosted an annual
Fishing Derby
at Remington Pond in conjunction with the Free Fishing Day on Fort Drum. The Fishing Derby takes place the Saturday before Memorial Day weekend. There are other
free fishing days and clinics
throughout New York State.
There are normally three days per year when fishing can be done on Fort Drum without a New York State fishing license. Although no New York State fishing license is required during these days, a Fort Drum Recreational Permit must still be obtained for fishing in the Training Area.
For 2019, free fishing days are Saturday/Sunday, February 16-17 in NYS; Saturday, May 19 on Remington Pond at Fort Drum only; Saturday/Sunday, June 29-30 in NYS; September 28 in NYS; and November 11 in NYS. The Fort Drum Free Fishing Day also corresponds with an annual youth Fishing Derby at Remington Park.
Disabled Access Fishing Opportunities
There is an accessible trail and pier structure at Remington Park. There are also parking areas and fishing platforms constructed at angling sites #11 and on Black Creek. There is a NYSDEC accessible parking area and fishing pier on the Indian River near the Fort Drum boundary near Natural Bridge.
See the NYSDEC web site for a list of fishing access sites listed by county for anglers with disabilities. The NYSDEC web site also has information about other accessible recreation opportunities in New York State.
Other Places to Fish in New York State
There are numerous water bodies and fishing opportunities available throughout the North Country within a 70 mile radius of Fort Drum. A map highlighting some of these areas are available. Check any of the links below for more information.
Top fishing waters and other places to fish in New York State can be found on the NYSDEC web site.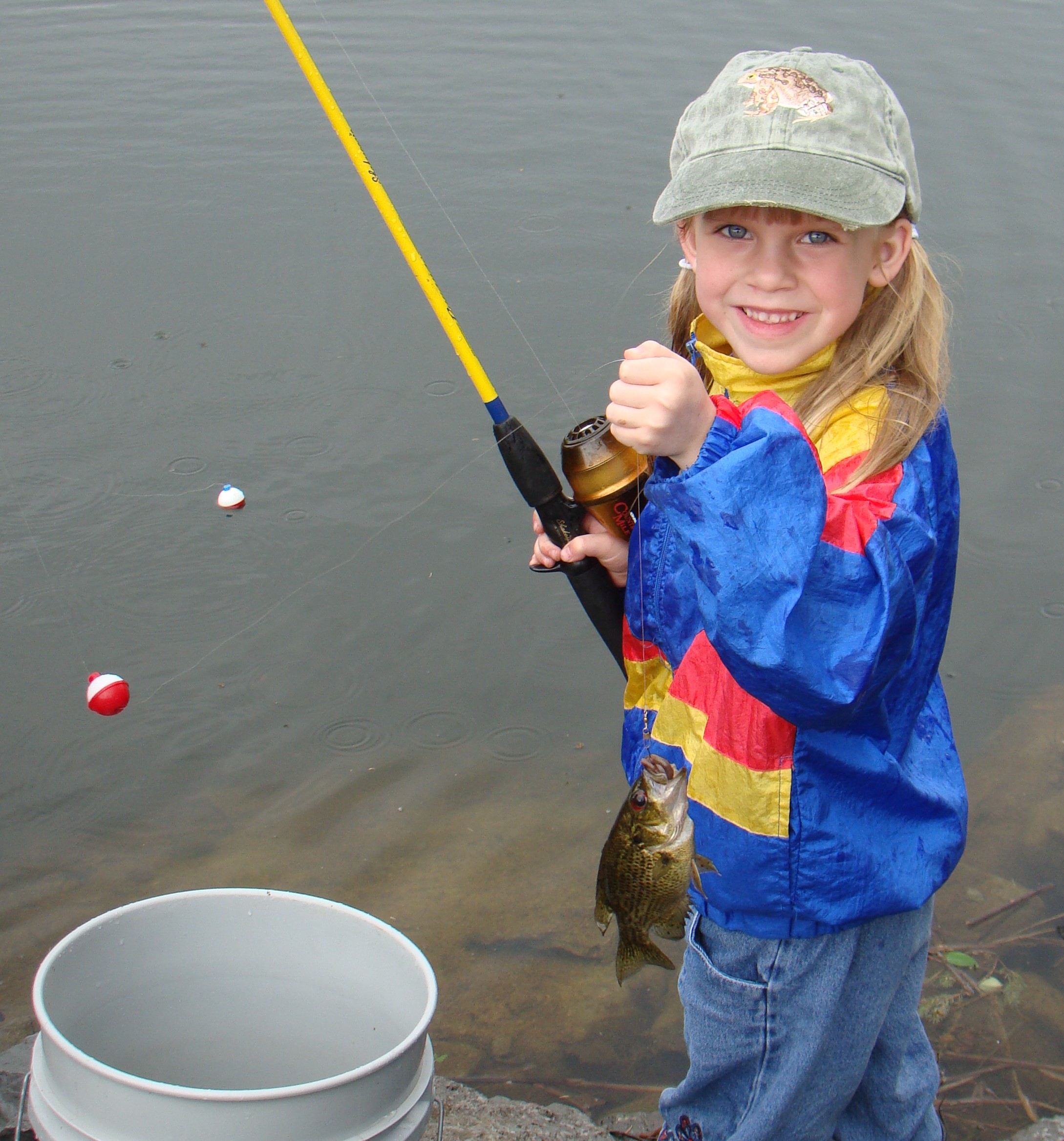 There are several opportunities for special hunting opportunities for youth anglers in New York State. See the Youth Outdoor Opportunities page for more information.